kettingen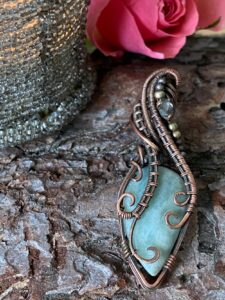 Categorie kettingen
In deze categorie handgemaakte kettingen met edelsteen ziet u bijzondere hangers die uitstekend te dragen zijn in combinatie met de verschillende unieke, eveneens handgemaakte armbanden. Of wat dacht je van een combinatie met een aparte, fraaie ring met edelsteen? Of stel een leuke set samen met oorbellen. Helemaal hip is een combi met een bijzondere sjaal speld of een hoedenspeld die ook als dasspeld of broche te dragen is.
Ook voor het oogappeltje kun je waardevolle juweeltjes vinden in deze categorie handgemaakte kettingen met edelsteen. Voor die sieraden heb ik rekening gehouden met een zachte werking van de edelstenen. Tijdens de markten merkte ik dat de kids zich vaak aangetrokken voelen tot heel specifieke edelstenen. Daarom bestudeerde ik de werking daarvan en ontdekte ik waardoor dat zou kunnen komen. In de hele collectie staan verwijzingen naar de beschrijving van de edelstenen zodat het makkelijk en leuk is om zelf deze interessante ontdekkingstocht te maken. Ik werd er heel positief door verrast. En daarop begon ik vol enthousiasme met de sieraden speciaal voor de oogappeltjes 🙂
Bij de bestelling kun je de gewenste lengte (liefst min/max) van de ketting in de omschrijving aangeven. Ik maak dan de ketting op maat.
Met iedere ketting uit de collectie heb je iets bijzonders en waardevols wat iedere dag gedragen kan worden. De kleuren van edelsteen passen eigenlijk altijd bij de kleding die je draagt. De hangers zijn bovendien slijtvast en overal tegen bestand. Ik droeg sommige hangers tijdens mijn lange reizen en die hebben bijvoorbeeld zon, zee en strand glansrijk doorstaan!
Toont alle 49 resultaten